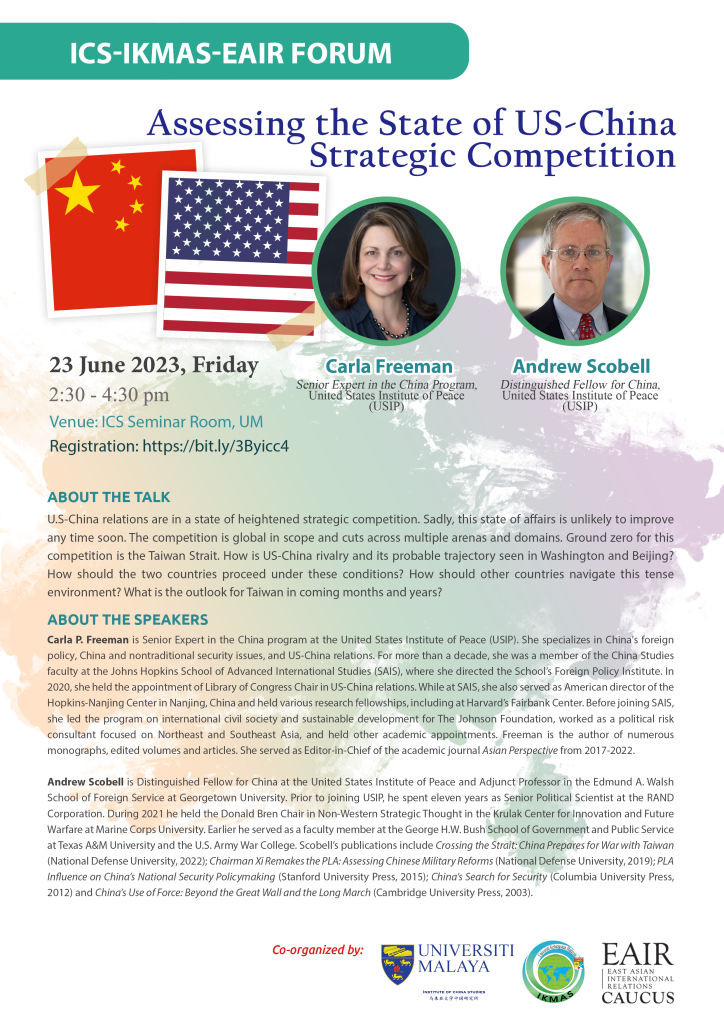 About the Talk
U.S-China relations are in a state of heightened strategic competition. Sadly, this state of affairs is unlikely to improve any time soon. The competition is global in scope and cuts across multiple arenas and domains. Ground zero for this competition is the Taiwan Strait. How is US-China rivalry and its probable trajectory seen in Washington and Beijing?
How should the two countries proceed under these conditions? How should other countries navigate this tense environment? What is the outlook for Taiwan in coming months and years?
About the Speakers
Carla P. Freeman is Senior Expert in the China program at the United States Institute of Peace (USIP). She specializes in China's foreign policy, China and nontraditional security issues, and US-China relations. For more than a decade, she was a member of the China Studies faculty at the Johns Hopkins School of Advanced International Studies (SAIS), where she directed the School's Foreign Policy Institute. In 2020, she held the appointment of Library of Congress Chair in US-China relations. While at SAIS, she also served as American director of the Hopkins-Nanjing Center in Nanjing, China and held various research fellowships, including at Harvard's Fairbank Center. Before joining SAIS, she led the program on international civil society and sustainable development for The Johnson Foundation, worked as a political risk consultant focused on Northeast and Southeast Asia, and held other academic appointments. Freeman is the author of numerous monographs, edited volumes and articles. She served as Editor-in-Chief of the academic journal Asian Perspective from 2017-2022.
Andrew Scobell is Distinguished Fellow for China at the United States Institute of Peace and Adjunct Professor in the Edmund A. Walsh School of Foreign Service at Georgetown University. Prior to joining USIP, he spent eleven years as Senior Political Scientist at the RAND Corporation. During 2021 he held the Donald Bren Chair in Non-Western Strategic Thought in the Krulak Center for Innovation and Future Warfare at Marine Corps University. Earlier he served as a faculty member at the George H.W. Bush School of Government and Public Service at Texas A&M University and the U.S. Army War College. Scobell's publications include Crossing the Strait: China Prepares for War with Taiwan (National Defense University, 2022); Chairman Xi Remakes the PLA: Assessing Chinese Military Reforms (National Defense University, 2019); PLA Influence on China's National Security Policymaking (Stanford University Press, 2015); China's Search for Security (Columbia University Press, 2012) and China's Use of Force: Beyond the Great Wall and the Long March (Cambridge University Press, 2003).