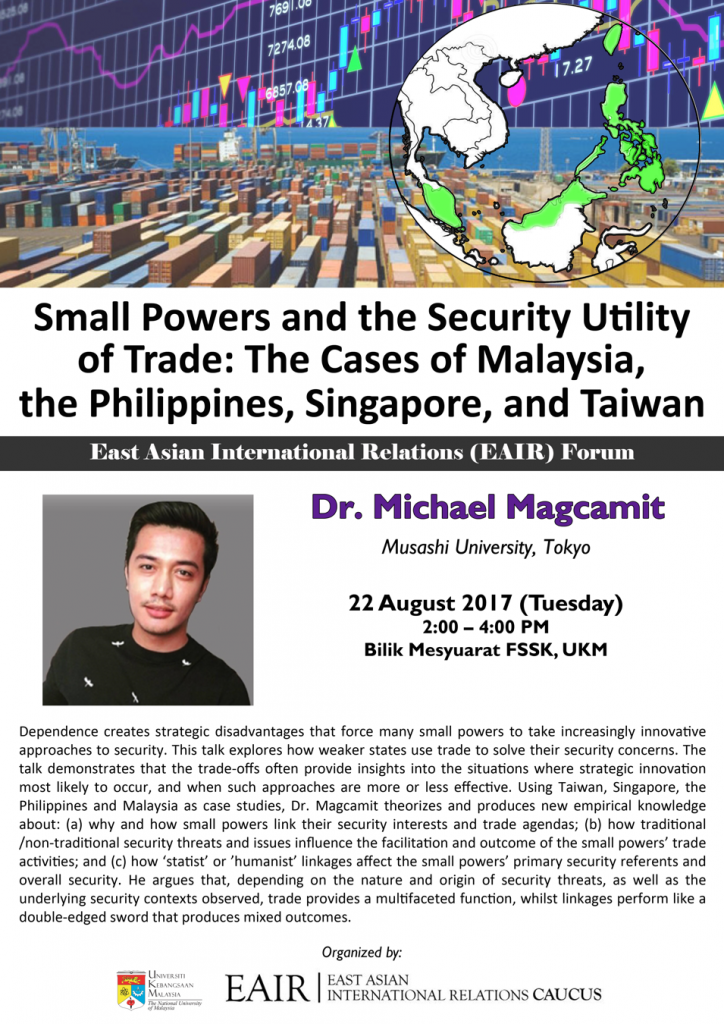 Dr. Michael Magcamit
22 August 2017
Dependence creates strategic disadvantages that force many small powers to take increasingly innovative approaches to security. This talk explores how weaker states use trade to solve their security concerns. The talk demonstrates that the trade-offs often provide insights into the situations where strategic innovation most likely to occur, and when such approaches are more or less effective. Using Taiwan, Singapore, the Philippines and Malaysia as case studies, Dr. Magcamit theorizes and produces new empirical knowledge about: (a) why and how small powers link their security interests and trade agendas; (b) how traditional/non-traditional security threats and issues influence the facilitation and outcome of the small powers' trade activities; and (c) how 'statist' or 'humanist' linkages affect the small powers' primary security referents and overall security. He argues that, depending on the nature and origin of security threats, as well as the underlying security contexts observed, trade provides a multifaceted function, while linkages performs like a double-edged sword that produces mixed outcomes.
About the Speaker: Dr. Michael Magcamit is an Assistant Professor at Musashi University in Tokyo, Japan where he teaches International Relations (Musashi-LSE Parallel Degree Program) and East Asian Studies (Musashi International Exchange Program) courses. He is also a visiting lecturer in the Graduate School of Humanities and Social Sciences at the University of Tsukuba. His research interests are in the areas of Security Studies and International Political Economy with a specialist focus on small powers in Asia. His works have been published in various academic journals including the International Relations of the Asia-Pacific, World Affairs, Asian Journal of Political Science, Asian Affairs, Japanese Journal of Political Science, Journal of Asian Security and International Affairs, and Journal of Human Security. He is also the author of Small Powers and Trading Security: Contexts, Motives and Outcomes (Palgrave 2016).