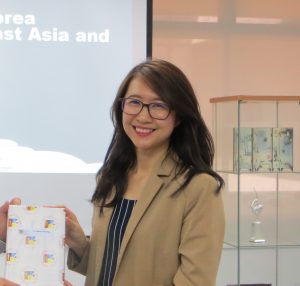 DR. HOO CHIEW PING
Senior Lecturer, Strategic Studies and International Relations Programme
Politics and Security Research Centre, National University of Malaysia (UKM)
Dr. Chiew-Ping HOO is Senior Lecturer in the Strategic Studies and International Relations Program at the National University of Malaysia (UKM). She is concurrently co-founder and co-convener of the East Asian International Relations (EAIR) Caucus at UKM. She was 2017 Shangri-la Dialogue's Southeast Asian Young Leaders Programme (SEAYLP) Associate Research Fellow at the International Institute for Strategic Studies (IISS-Asia). Chiew-Ping was also Korea Foundation Field Research Fellow at Seoul National University in 2010, and Academy of Korean Studies (AKS) research fellow in 2011. Her main research interests include South Korean foreign policy, North Korean provocations, IR theory, and Korea-Southeast Asia relations. She is currently leading a Korea Foundation-funded project on Southeast Asia-North Korea relations, examining the security-economic linkages and strategic uncertainties of North Korean security challenges in the region. Dr. Hoo is consulted by Malaysian and international media on Korean security issues which appear in English and Mandarin mediums, including BBC News, Wall Street Journal, Washington Post, South China Morning Post, China Review, Sin Chew Daily, among others.
Contact
hoo@ukm.edu.my
UKM Faculty | LinkedIn | Academia | Researchgate | Google Scholar
Academic Qualification
Ph.D. Politics and International Relations, La Trobe University
B.Soc.Sci. International Relations, National University of Malaysia (UKM)
Area of Expertise
US-ROK's North Korea Policy, ROK's Foreign Policy, Korea-Southeast Asia Relations, Northeast Asian Security, Defence Policy, North Korean Provocations, Statecraft
Media
I have written articles for, and been interviewed by journalists from local and international print and broadcast outlets, including: Sin Chew Daily (星洲日報), The Star, Oriental Daily (馬來西亞東方日報), Utusan Malaysia, BBC News, South China Morning Post (南華早報), China Review (中國評論新聞/中評社), Malaysia's Astro Awani and NTV7, South Korea's TBS eFM Radio, BBC World Service radio, and ORF Austrian National Television.
Some of my latest commentaries, interview, and op-ed on China Review (1, 2; both in Mandarin), The Star, Oriental Daily (in Mandarin), and BBC News.
Awards and Fellowships
2018 IUE Emerging Leaders Fellowship by the Ministry of Unification, Republic of Korea
2017 SEAYLP Associate Research Fellow at the International Institute of Strategic Studies (IISS-Asia)
2011 Academy of Korean Studies (AKS) Research Fellow
2010 Korea Foundation Field Research Fellow at Seoul National University
2008-2012 Doctoral Study Award by Malaysian Ministry of Higher Education
2007 University Book Prize (International Relations), National University of Malaysia (UKM)
Current Research Projects
Leader, Korea Foundation-funded project on "The Role of Southeast Asia in Mitigating North Korea Security Challenges, Security-Economic Linkages & Strategic Uncertainties".
A member of UKM's FRGS research group headed by Assoc. Prof. Dr. Nor Azizan Idris on "An Indigenous Framework for Southeast Asian International Relations Theory Development". FRGS/1/2015/SS02/UKM/02/6
A member of UKM's FRGS research group headed by Assoc. Prof. Dr. Kuik Cheng-Chwee on "Re-conceptualizing "Concentric Multilateralism": Developing a New Theory of Explaining ASEAN's Evolving Roles for Malaysia's Strategic Interests". FRGS/1/2015/SS02/UKM/02/7
A member of UKM's IPPTN-CLMV research group headed by Assoc. Prof. Dr. D.Ravichandran K.Dhakshinamoorthy on "Strategies of the management of water security issues in the Mekong river basin" SK-2016-0